Regular price
$27.00 USD
Sale price
$27.00 USD
Unit price
per
Sale
Sold out
Hugh Latimer and Nicholas Ridley were burned at the stake in Oxford on October 16, 1555.  Their crime? Refusing to renounce their Protestant faith.
It is recorded in Foxe's Book of Martyrs that while the flames rushed upon them, Latimer encouraged Ridley with the words, "Be of good cheer, Mr. Ridley, and play the man. We shall this day light such a candle by God's grace in England, as I trust shall never be put out."
The front of this t-shirt includes the latin phrase, "Post Tenebras Lux (after darkness, light)" with the silhouette image of Latimer and Ridley at the stake.  No matter how powerful the darkness is, we have hope in the true Light of the World, Jesus Christ, whose light cannot be put out.
The back includes Latimer's quote from above.
The theme of light in the darkness continues on in this glow in the dark t-shirt design.
Non-Refundable.  Non-Returnable.




Please check the size chart and be certain of your size.
Adult shirts are a slightly snugger fit than the average t-shirt, so check the measurement chart below before you order.  For a looser fit, some people prefer ordering one size up.
Glow in the Dark color is bright during the day and glows at night
Adult shirts:
We are transitioning from 52% cotton, 48% polyester to Bella Canvas 100% Cotton.  You may receive a mixture of t-shirts in your order. 
Share
View full details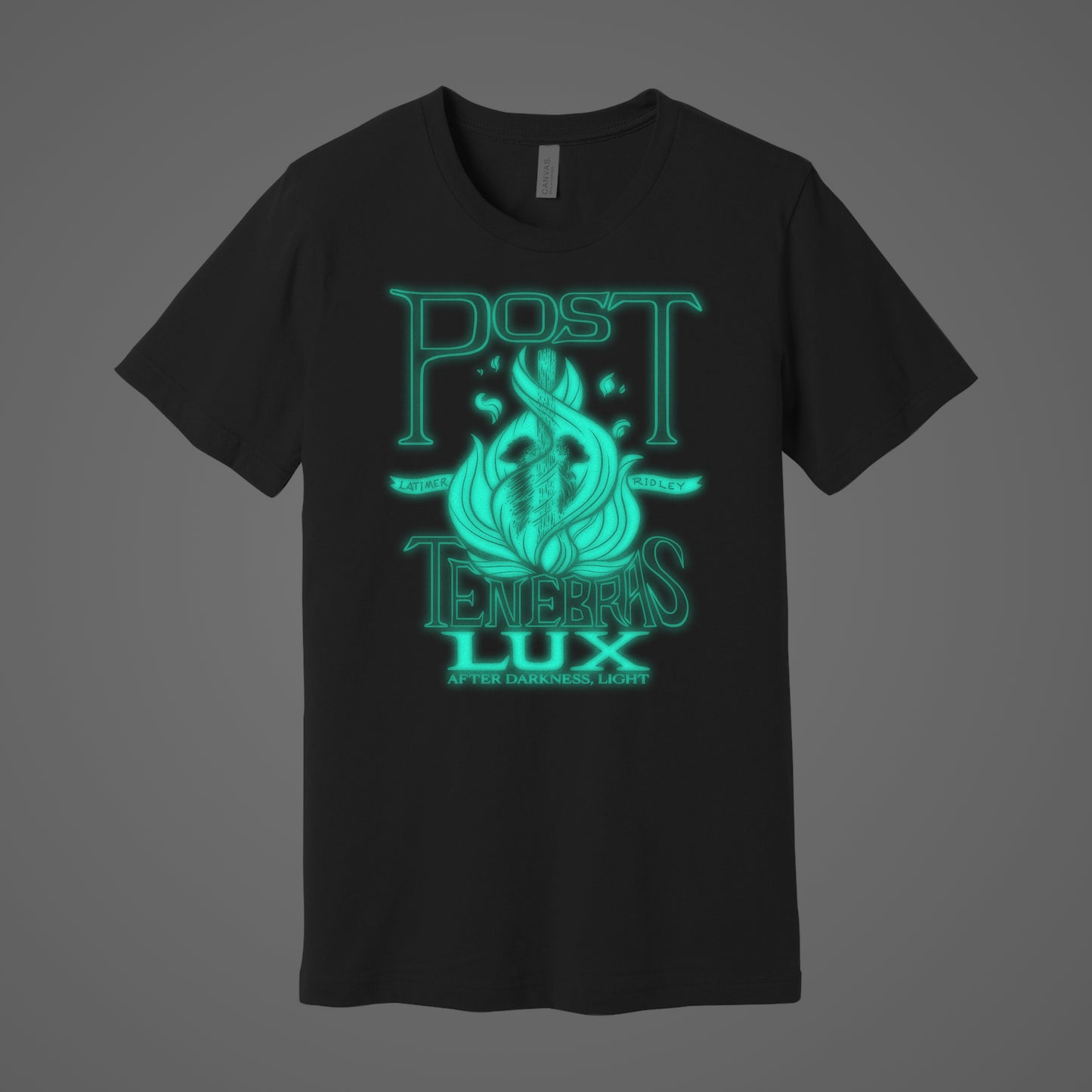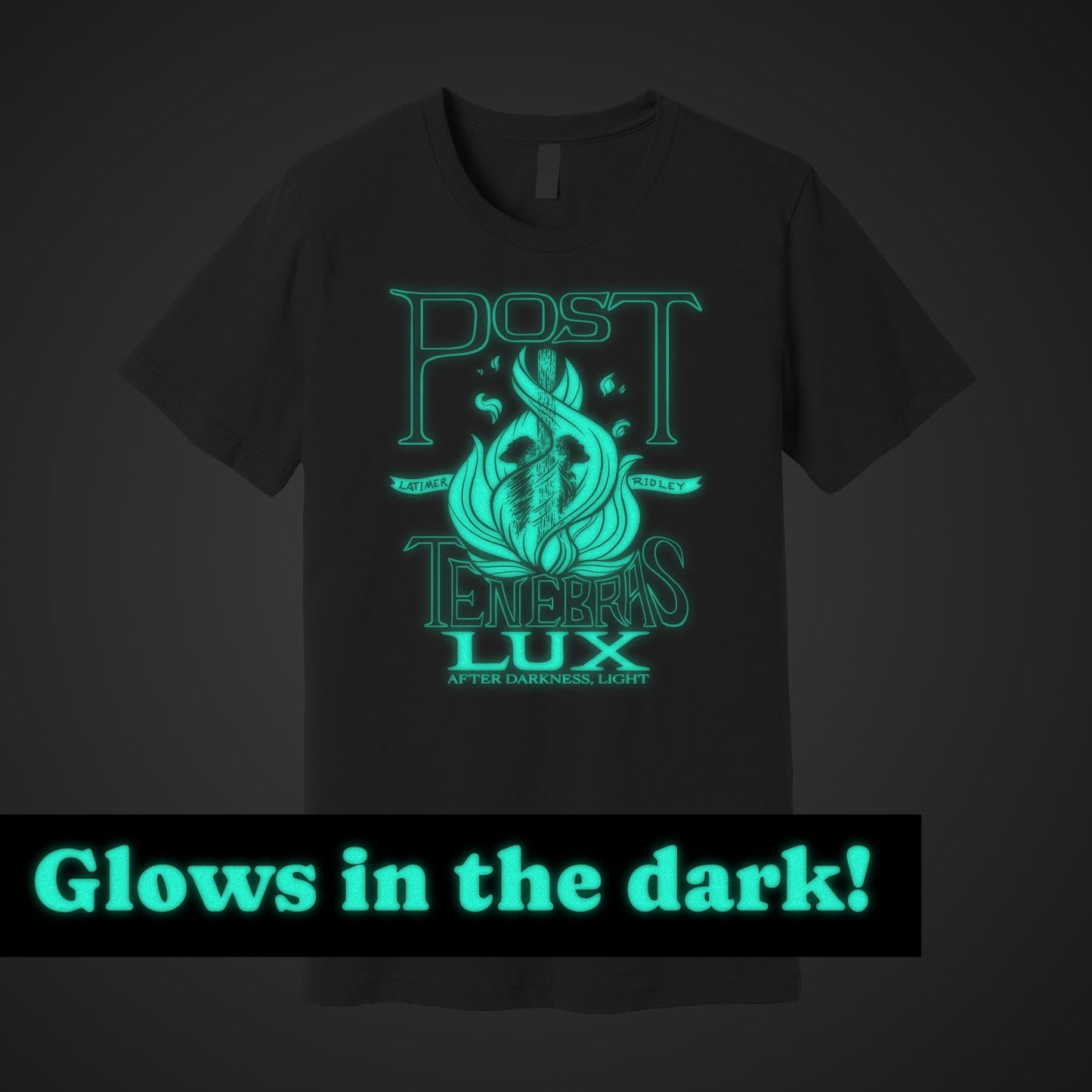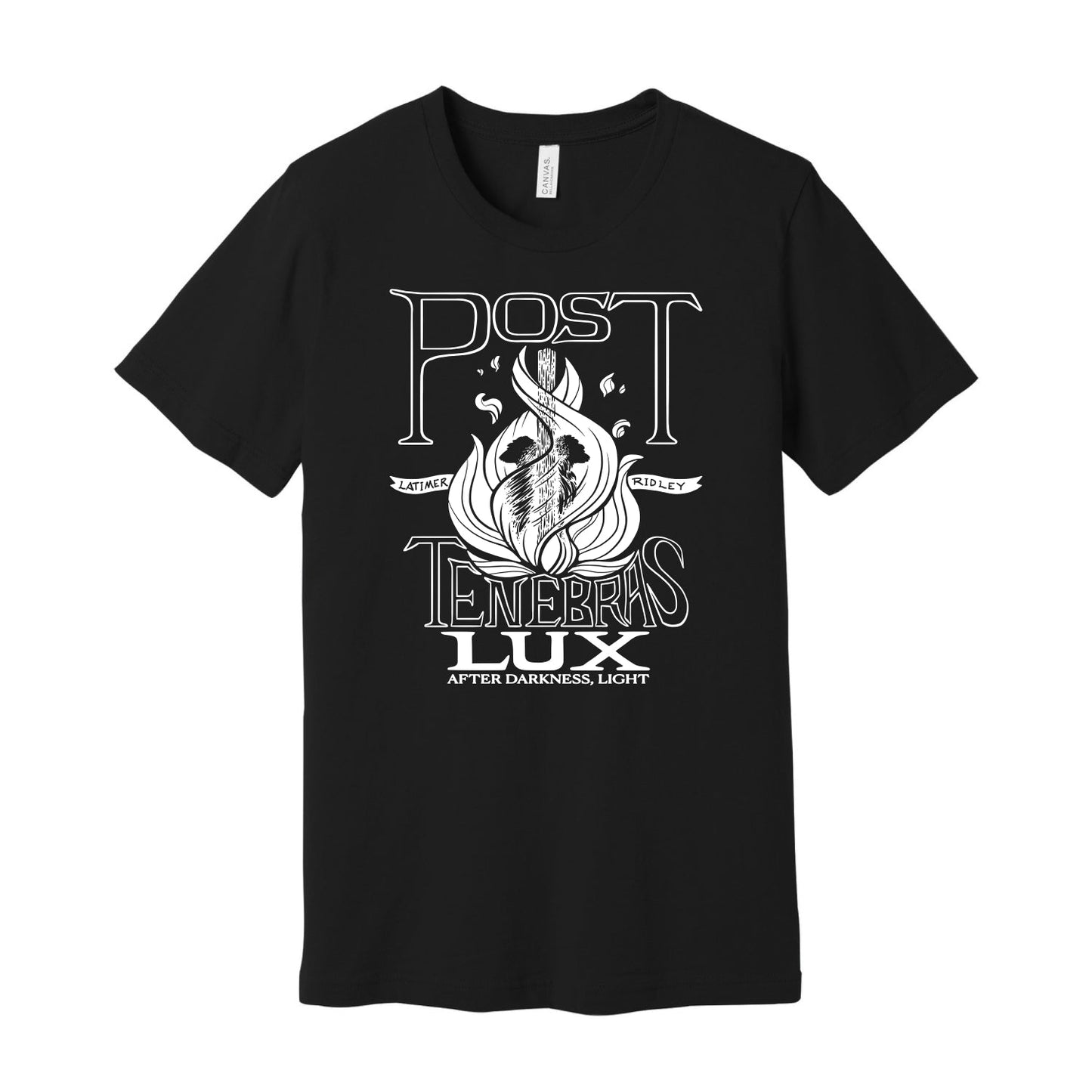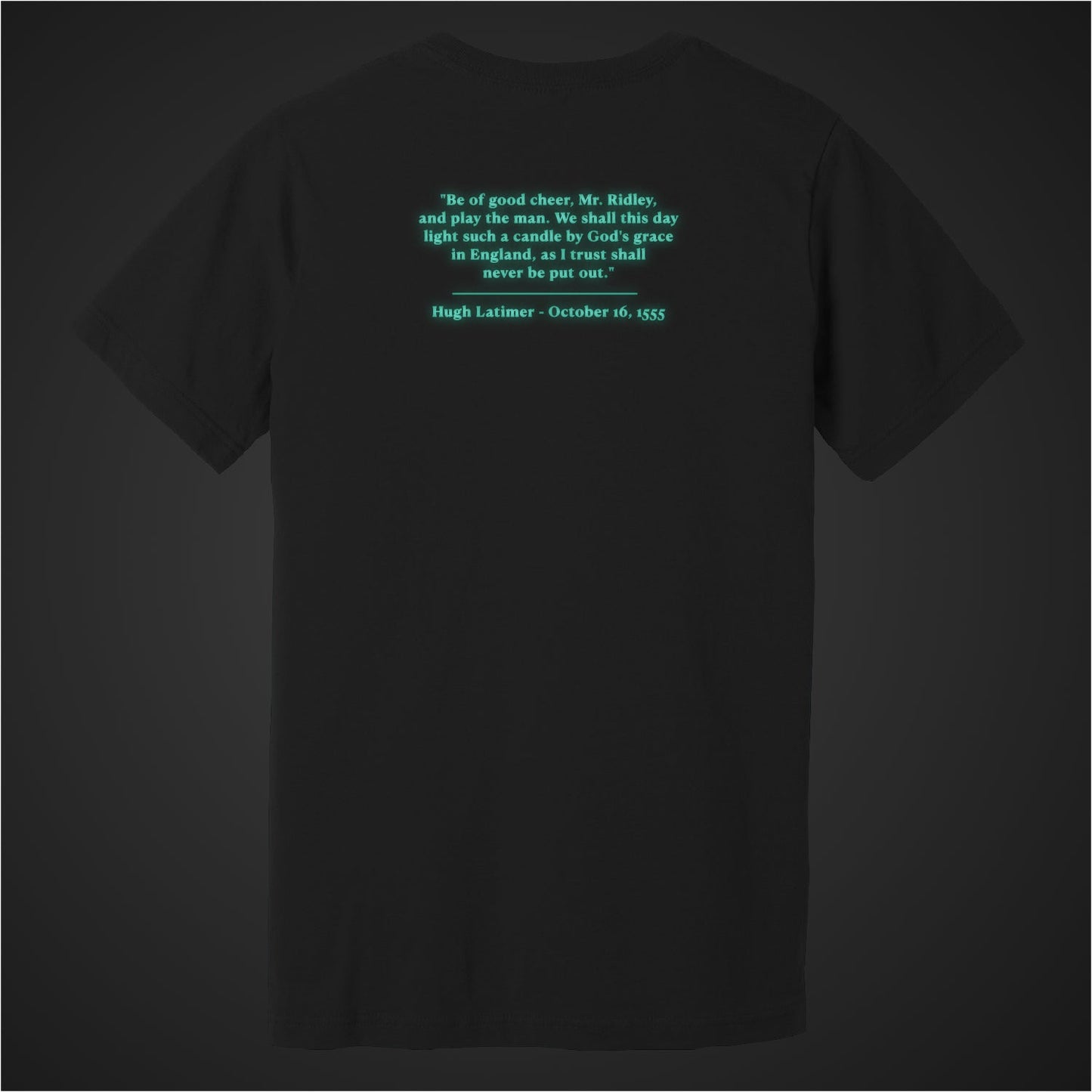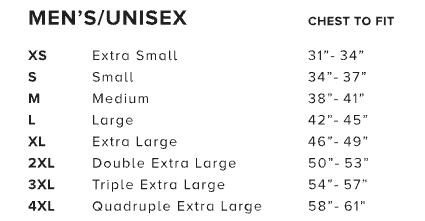 New Favorite Shirt
I already have a weakness for shirts that glow in the dark, so this one was completely worth the splurge with such a meaningful message and quote.
The t-shirt itself is soft and lightweight. It fits comfortably, and I can't wait to wear it again!
I love it!
Really nice shirt, good quality and is very comfortable. Also glows really well! Perfect for Reformation day!
Reformation Day Shirt
I've loved RefToons for years. So grateful for their quality products and faithful message of God's faithfulness throughout history.
Started wearing my RefToons Augustine of Hippo shirt a couple years ago for our Reformation Day party and wanted an upgrade. This shirt is super soft and the logo glows bright after charged in the light for a short time.
Outstanding quality and design!
I dare say that the brightness of this shirt in the dark is outshined only by the almighty creator of light himself. I've been wearing this shirt every day since it's been delivered, and I've saved a solid $300 in electric bills already. I've resolved to live without the use of conventional illumination because this bad boy provides a glow that cannot be matched by any standard t-shirt. In all seriousness, this shirt is printed on quality fabric, and the image emits a glow as advertised. Great product, great art, even better message. Well done Mr. Cox.